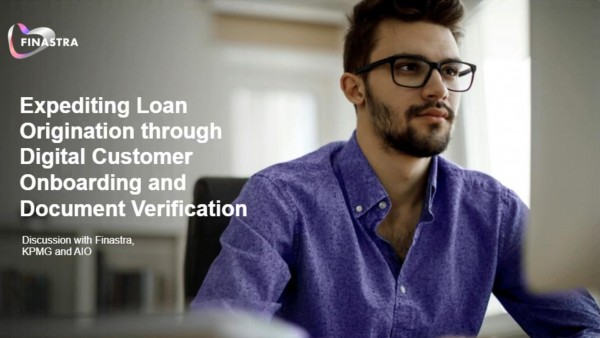 Ninety percent of loan onboarding at financial institutions is still paper based, according to a recent Finastra research. This is extremely problematic given COVID-19. The demand for business loans and financing is at a 13-year high, particularly for SMBs. Banks and credit unions need to administer and originate loans quickly. Many simply can't handle it.
Lenders are burdened with manual collection and review of documents, which is prone to fraud and human errors. Financial institutions lose over 40 percent of applicants during the onboarding process and pay $6,000 on average for onboarding a new customer.
How can banks and credit unions tap into the power of digital onboarding, document collection and verification – in weeks rather than years – and create a better lending experience for business borrowers?
Join the discussion with Finastra, KPMG and AIO - Verified Financial Identity to learn more about:
Financial identities, KYC and KYB requirements, and the issue with current processes
Consumer demand and adoption of digital banking and lending experiences
How to leverage technology and Fintech innovation to tackle these challenges
---
You might also be interested in